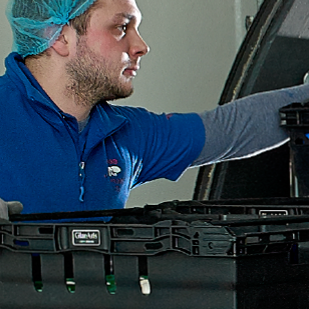 Work with us
When you join Codd Mushrooms, you will become part of a family run company with a 250 strong workforce. It is the passion and dedication of our staff that has helped ensure our steady growth, and we are committed to developing the potential of our staff at all levels across the company.
Our Location
We are situated in Tullow, Co. Carlow. As a business that is constantly growing, we always need great people to come work with us, and the opportunities here are plentiful……

Current Vacancies
Mushroom Harvesters – We currently have vacancies for mushroom harvesters in our farm in Tullow, Co. Carlow. This job entails the harvesting of mushrooms by hand and placing them into retail punnets at a specific weight.
All induction and training is done on site.
Our pay is on a piece rate basis and is very competitive – following training, you will earn a minimum of €9.80 per hour with a premium paid on a Sunday.
General Operatives – We currently have vacancies for General Operatives in our Packhouse, Dispatch Department and Growing Rooms.
Attractive Pay Package
All Staff are paid fortnightly in arrears.
All Staff will be required to work a maximum of 48 hours a week over 6 days
All Staff will get 20 days annual leave per year
We will assist you in obtaining a PPS Number and Bank Account
We will assist you in finding accommodation
Additional Information
Nearest Town: Tullow
Other Local towns: Carlow, Baltinglass, Rathvilly & Castledermot
Existing Staff Nationalities: Latvian, Polish, Lithuanian, Romanian, Thai, Irish
Contact:
Codd Mushrooms Ltd., Downings, Tullow, Co. Carlow, Ireland.
info@coddmushrooms.ie
Tel: +353 59 9163031
Codd Mushrooms – Ireland's Leading Supplier and Grower of Mushrooms